Nepal | Outreach Through Literacy and Skills Training
July 28, 2009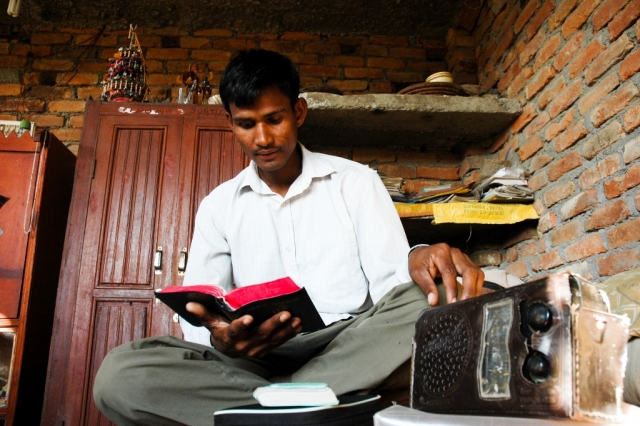 "My name is 'L'. I used to live a rebellious life, and drank and swore a lot. I would also hit my wife and yell at her for trying to change me. This went on until, one day, I fell ill with terrible headaches and high fevers. I was not able to do anything else except stay in bed. Medication did not help and my wife went to seek the assistance of witch doctors, but my condition would only get worse by the day."
One of the poorest countries in the world, illiteracy and poverty are just two of the social plagues in Nepal. It is common for large families to stay together under one roof and they constantly struggle for survival. Medical care is sorely lacking in the rural areas and many adopt bad health habits, while others struggle with addictions, such as smoking and drinking.
Through a neighbour, 'L' and his wife came to hear about TWR-Asia's program on the radio, and learnt more about Jesus and how prayers could bring healing. They decided to visit a church, and through TWR-Asia's follow-up team in Nepal, they received the good news of salvation. 'L' opened his heart and received Jesus, and was prayed for by the team for healing.
"I am so much happier now. My sickness is also getting better. I go to church and listen to the radio program regularly. Now my life has been transformed and I would like to thank TWR-Asia for playing a part in that and for leading me to know Jesus", says 'L'.
Other than producing relevant gospel messages on air, TWR-Asia is fulfilling its mission through a holistic approach on the ground as well, in order to address and meet not only the spiritual, but also the physical, social and psychological needs of the people in Nepal.
TWR-Asia also reaches the community by helping more than 100 women aged 15 to 65 learn to read and write through two adult literacy centers. In addition, more than 100 unemployed women are also being trained in tailoring and sewing in centers that are run by TWR-assisted churches. Informal schooling is also given to 25 underprivileged children in a slum area.
Praise the Lord for the difference that TWR-Asia is making in the rural neighbourhoods of Nepal which are in desperate need to hear and receive messages of hope and healing.

Prayer and Praise
Praise the Lord for transformed lives through the ministry of TWR in Nepal.
Pray for spiritual equipping over the TWR staff in Nepal, so they can persevere and minister effectively to the listeners in the rural areas.