Nepal | Santa Who?
November 26, 2009
Christmas is celebrated more among the Christian community in Nepal. It is not very well known in Nepal as most Nepalese are non-Christians, and Christianity in Nepal is also considered very young. In fact, Christmas was declared a national holiday only in 2007!
For the festive season, churches put up decorations, lights, and also set up a Christmas tree. While the majority of those who decorate their homes are Christian, most homes, including some Christian ones, do not have decorations. A few non-Christian homes – especially those who are aware of Christmas – may put up decorations. In the last few years, some shopping malls have started to put up decorations, especially those in places where a lot of tourists visit, such as Kathmandu and Pokhara.
Generally speaking, Christmas is still not very popular among most people in Nepal, especially those in the rural areas. As such, many people – including children – are not aware of who Santa Claus is, even though there are a handful who do know. As Christianity is relatively young in Nepal, many western Christmas beliefs and traditions are not well known.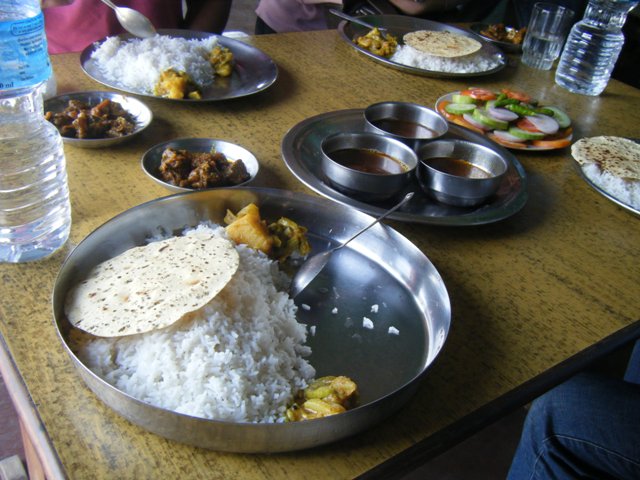 This extends to the food as well. Christians in Nepal do not prepare traditional western dishes such as ham or turkey. However, they do prepare some cakes and normal Nepali meals – nothing too elaborate or special. Usually, they have rice with meat and different kinds of vegetables and pickles known as masu bhat, tarkari and achar in Nepalese.
Most churches have a special service on Christmas day. There will be a sermon on the birth of Christ, as well as other programs and activities such as drama presentations, dances, songs and games.
Gifts will be presented to the Sunday school children. After service, the people will usually fellowship over a simple meal.
Carols are sung in some public places and Christians homes. Some of the younger generation do exchange presents, but most Christians exchange greetings cards and Christmas wishes.
During the Christmas season, non-Christians do not really take part in the festivities. However, churches do invite non-Christians to join the Christmas services. Some Christian families invite their non-Christian friends, relatives and neighbors to their homes during Christmas. Most non-Christians are receptive towards message of Christmas during this time of year.

Christianity is growing and spreading in Nepal thanks to the Word of God that is broadcast over radio. Be a part of this exciting period of growth by contributing to the evangelistic programs which seeks to reach Nepali people in their native tongue.