Nepal | Hope and a Future
January 5, 2010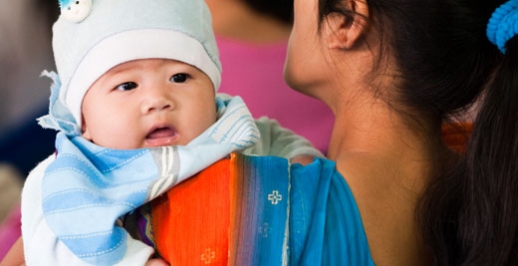 "My name is Nita, and I am from Butwal. I am married, and I have two sons. I was originally from Nagaland, India. I accepted Jesus as my personal savior when I was a child, and was an active member of the church choir. When I was 19-years-old, I got married to a Nepalese. We fell in love, got married, and I moved to Nepal.
Nepal is very far from my home town. In spite of that, I was happy. My husband and I attended a local church in Nepal. After some time, I gave birth to a boy. We were so happy! For our second child, we hoped for a baby girl as my husband really wanted a daughter. However, I again gave a birth to a boy. My husband was disappointed. Although he did not express it, his behavior towards me changed. I became very sad and I wanted to have a girl to make him happy again. We planned to have another baby in the hope that it would be a girl. However, it has been five years since, and I have not been able to conceive. When I went to the doctor, he told me that I would not be able to give birth again. If I became pregnant, it would be critical for me and the baby.
I fell into depression. My husband started ignoring me, and did not love me as much as before. Gradually, my attention was shifted away from God and church, and my attitude changed. I stopped serving in church and became an irregular participant in church services. My days carried on like this.
One day, the women and children co-ordinator from TWR-Nepal came to our church. She wanted to form a prayer group in our church as part of a prayer network for Project Hannah. She happened to speak with me, and I told her about my situation. She told me about the radio program Women of Hope, and encouraged me to listen to it. She told me that through the program, I would get comfort and peace in Jesus, and become close to him once again. She also told me that I would get the answers I was seeking in the radio program. She then gave me a program guide and prayed for me.
When I went home, I put the program guide away and forgot all about it or the program. One day, I had a strong prompting in my heart me to turn on the radio and tune in to the Women of Hope program. After I turned on the radio, I knew that it was the Holy Spirit which prompted me to do so. What I heard was totally related to me. The program that day was about adoption, and I was totally shocked.
I learned that in Jeremiah 29:11, God says, "For I know the plans I have for you. Plans to prosper you and not to harm you. Plans to give you hope and a future". The program went on to say that God loves and cares for us so much, whether or not we feel or believe it, and that we are all part of His eternal plan.
The words touched my heart. I used to think that adopting a child was a difficult thing to do as the child might hate me when he grew up. However, through the program, I came to know that some child had a great need of me. I accepted that God had plans for me, and that I am part of His big, eternal plan. I thought of adopting a baby girl, so that I could give her a bright future and hope. I spoke with my husband, and he was against it at first. After much prayer, God answered my prayers and my husband agreed to adopt a baby girl.
We finally adopted a girl whom passers-by had found in some bushes where her mother left her. My eyes filled with tears. I thanked God for not giving me my own baby girl because this child we adopted needs us. Today, she is five-months-old and in this way, I became the mother of two boys and a girl.
From that day on, I began listening to Women of Hope regularly. Not only that, I am helping to distribute the program guide to other women, and encouraging them to listen to the program as well.
I would like to give all the credit to God, to TWR-Nepal, and Women of Hope. I got the answer to my questions through Women of Hope. God has given me a new hope and a new life. I am so thankful to TWR-Nepal for airing such a wonderful program, and helping us live happy and joyful lives. Thank you once again!"
If you would like to encourage wives in despair such as Nita, consider making a donation to help TWR-Asia continue our broadcast of Women of Hope to women across Nepal.