Nepal | Amazing Love
May 14, 2010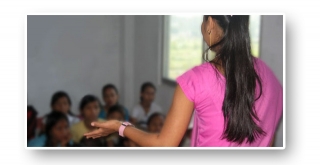 Since childhood, Asha was painfully aware of the gender discrimination her father had shown towards her. Her other three sisters were treated the same way. Due to her father's on-going discrimination towards his daughters, Asha suffered from an inferiority complex and low self-esteem even till adulthood. This had caused her to lose her self-worth and even shaped her perception that a woman has no significant status in society.
Asha shared, "Whenever I think about how lowly I am regarded by my father, I would plunge into a state of depression. I have had a difficult life. Even as a child, I had to depend on my relatives for financial support to complete my studies."
An added struggle for Asha was that she had to witness unbearable and painful acts of domestic violence which were common occurrences at home. Due to her exposure to domestic violence, she ended up working for a social organization which campaigned against domestic violence.
Asha added, "One day, I turned on the radio and heard this broadcast that was tailored for women. The program that day touched on the value of women. From this program, I came to experience God's enduring and tender love for me. HE made me realize that I am his valued child, no matter what. In God's amazing love, I have found peace and joy. I am grateful for this program as I would never have known this peace and joy through my earthly parents."
Life was never the same for Asha. Her renewed hope in God has motivated her to write to TWR-Nepal to share her story, to encourage others who face similar struggles in their lives. With the Bible she received from TWR-Nepal, she is excited to discover more about God's teachings and grow in her relationship with God as she attends regular church services.
Prayer and Praise
Pray for Asha and other women in Nepal who are discriminated by gender that God will continue to strengthen them and lead a purposeful life with God as center of their lives.
Pray that more unbelievers will open their hearts to God's love and teachings.