Nepal | Nourishing Children Through the Word
September 6, 2010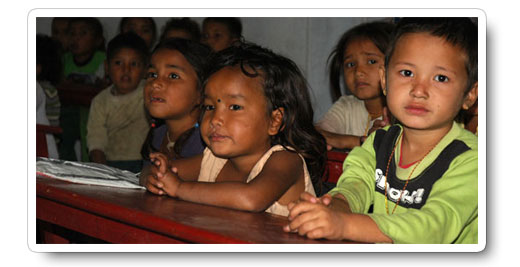 The TWR-Nepal team recently introduced a new children's program "Bal Batika". As of June 2010, the program has been introduced to 11 villages, 15 churches and 3 orphanages in Nepal.
The team has received positive feedback about the program from listeners. A listener remarked,
"I am a Christian and have three grown children. I always pray to God about my desire to bring up my children according to biblical standard and principles. I bought a radio last month when I heard from TWR field staff that there is a children's program on the radio. I always tune the program for them and ask my children to listen to it together with me. Now this program has become a part of our family and we have to listen to it regularly. The program is helping my children and myself to grow spiritually with the Lord."
Most of the 15 churches also play the program, recorded in CD format, for children attending Sunday school. So far, three churches have been regularly playing this program. The churches also encourage the children to listen to the program at home. One teacher in the church said,
"Bal Batika is the program I like the most. It helps me greatly in teaching the children, because I do not have any existing teaching materials and literatures for them."
About 30 percent of the children the team encountered have told them that they listen to the program regularly. Radios from TWR-Nepal have also been distributed to poor families so that they can enjoy listening to the programs.
A director of a Christian orphanage shared that the children enjoy listening to the program immensely. He added,
"It gives me great pleasure and satisfaction to know the children have been nourished by God's word… this is evident in their moral development. One objective of our orphanage is to draw these children closer to the Lord. Therefore, this program is also helping us to fulfill our vision. I am very grateful to this program."
Prayer and Praise
Please pray for more good teachers and workers in the churches and Christian organizations who are willing to guide and teach the poor and sick children in Nepal.
Please pray for the children in Nepal for their daily needs to be met and to continue to trust in the Lord to bring them out of difficult circumstances in life.