Nepal | Understanding God's Word
October 20, 2010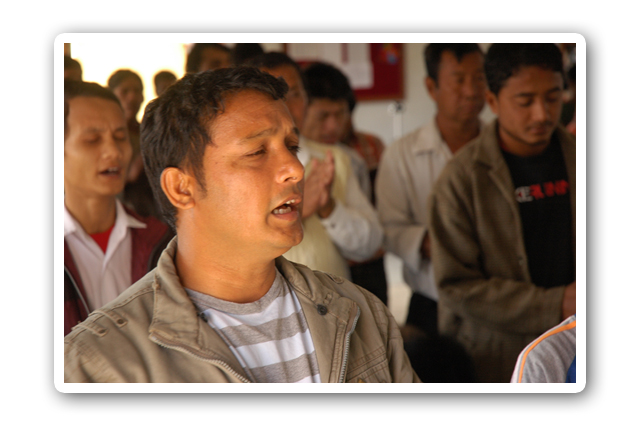 TWR-Nepal has consistently invested ongoing efforts in visiting remote villages and churches to meet up with the pastors, as well as connect with existing and new listeners of TWR programs. This month, the team went around to several districts to distribute the TWR program guides and collect listeners' letters from several churches and villages. There were wonderful opportunities to have personal meetings with several pastors and church members to introduce TWR-Nepal's ministry, have joint prayer sessions and join in their worship services.
During the field trip, through the personal interactions with the listeners, it was heartening to know that the TWR-Nepal team's prayers, energy and time have paid off with encouraging testimonies and feedback. The faithful listeners of the programs comprised both young and senior men and women. Prior to listening to the programs, most listeners did not understand the Word of God very well. The programs have helped them grow spiritually and brought them indescribable joy and peace and in return, motivated them to share the programs with their neighbors and friends through word-of mouth.
Through the teaching of the Word via these programs, some listeners in Nepal have grown in their understanding of the Word and have a passion to serve God. Some even assumed leadership roles in their church to assist other Christians. Shova, a 50-year-old Nepalese listener is one of them and the following is her testimony.

"I am a regular listener of the programs from TWR-Nepal. I used to be weak in understanding the Word of God. Ever since I started listening to the programs daily, I have greater knowledge and understanding about our Lord Jesus Christ. The program has helped me build a strong foundation in His Word and grow spiritually. The programs encourage me to live out a fulfilling Christian life. God has given me the wisdom and knowledge to share the gospel. Presently, I am able to lead worship sessions and prayer meetings.

My husband who used to drink and smoke has also been transformed and he is attending church with me. The programs have given me and my family a new life. I would like to express my gratitude to TWR-Nepal for the teaching of God's Word."
Prayer and Praise
Praise the Lord for the mighty work He has carried out in TWR-Nepal ministry in transforming listeners' lives.
Pray for strength, wisdom and good health for the TWR-Nepal ministry leaders and team members who are constantly in the field to spread the good news and programs.
Pray that the Lord will continue to bring forth suitably qualified workers with a heart to serve at TWR-Nepal ministry.