Precious In His Sight
February 13, 2012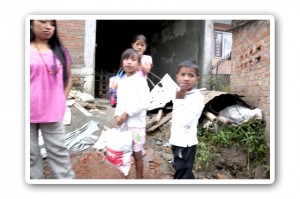 NEPAL — Hi! My name is Krishna and I am 11-years-old. When I was six, I lost my father to illness. That was when the struggles in my family began. Initially, my mother really struggled to provide for us. However, she was soon able to give us a comfortable life, even though I did not know how.
During that time, I noticed many women started coming to our house, and I heard my mother assuring them that they would be sent to the Middle East to get jobs. I learnt that she worked as an agent, and I was happy that things were getting better at home.
One day, everything changed suddenly. The police came to my house and arrested my mother for human trafficking. After a long process, she was put in prison for 10 years. I had to take care of my brother and there was no one to take care of us. People used to think badly of us and they hated us. Nobody wanted to have anything to do with us.
From time to time, my mother would call us on the phone. During one of these phone calls, she told us that she was happy in prison and that she had the opportunity to learn sewing from a class started by TWR-Nepal.
She also she shared that through the training, she learnt about Jesus Christ. She had accepted Jesus as her personal savior, and expressed that she wanted us to know Him as well.
She told me about this children's program called Balfulbari. From that day on, I started listening to Balfulbari over the local FM station. From the program, I learnt many things.
I was most touched when I learned that we children are very precious in the sight of the Lord, and that he will never leave us even if other people hated us. Our names are written on his hands and he knows everything about us.
This program touched my heart and brought me comfort in difficult times. It is also very effective in sharing the gospel with children. I am telling my friends in school about this Nepali children's program, and now, six of us gather to listen to Balfulbari regularly!
I do not know whether my mother is really a trafficker, but I thank God that she had the golden opportunity to know the Lord Jesus Christ in prison. Now, I am waiting for her release so that my mother and I can go to church together.
I would like to thank the entire Balfulbari team for producing this program which comforts and nourishes me in Christ. God bless you richly. Thank you!