Seek and You Will Find
September 14, 2011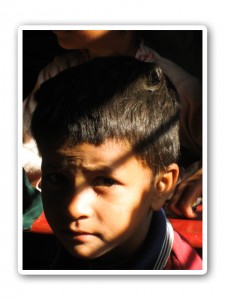 "My parents do not allow me to attend Sunday school. One day, I went to church secretly. My mom found out and stopped me from going again. Since then, I have been looking out for other ways through which I can listen to the story of Jesus."
NEPAL — At the tender age of seven, Shaha, a regular listener of TWR-Nepal programs, has already developed a yearning for God's Word. Shaha and his family reside in Bhairahawa in Nepal. Being the youngest child in the family, he is the apple of his parents' eyes. Even at that young age, he often ponders spiritual matters.

In the meantime, his friends often share with him what they learn from Sunday school and church services. He began to love listening to Bible stories. Even though his parents do not allow him to attend Sunday school, Shaha has been looking for other ways to hear God's word. One day, his heart's desire was fulfilled during an unexpected visit.
"My aunty visited our home and told me about a children's radio program, Balbatika. I was excited when I found out about the program. I started listening to it regularly. I like how it is narrated in a dramatic way, and how children's voices are used for the program. Through the program, I came to know that Jesus loves us and died for our sins. He loves children and would like us to become more like Him.

I love the program very much. Now I can listen to Bible stories at home, on the radio. The radio has become my close companion.

Thanks to the TWR-Nepal team, the producers and the presenters for such an interesting program!" exclaimed Shaha.
Despite being so young, Shaha has shown great perseverance in pursuing God's Word. In seeking, he has found what he was looking for. There are many other young ones like Shaha across Asia, who need to hear the gospel.
Continue to pray for God's protection and blessings on these children, that they will be able to receive and understand His Word through our programs.