He is our Hope
November 16, 2011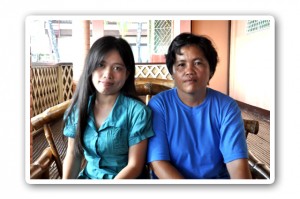 PHILIPPINES — The TWR-Philippines women?s ministry team recently had the wonderful opportunity to visit some listeners of the Women of Hope (Tagalog) program, Ilaw ng Pag-asa, at Palawan in the Philippines.
During the visit, the ministry team met Phyllis who is a listener of Absolutely 24/7 and Mumunting Kutitap (Little Lights). Her son, Jay, is also an avid listener of Little Lights.
Life has been not easy for Phyllis. Her husband left her for another woman, and Phyllis has been raising her son singlehandedly. Phyllis? friend, Ning, was also present when the ministry team visited.
During the visit, the team shared with Phyllis and Ning that there was a program tailored for women. Both of them expressed great interest to listen to Women of Hope.
Soon after the visit, TWR-Philippines received heartwarming messages from Phyllis and Ning who had since started listening to Women of Hope.
?We are listening to the program. The message was really nice. Ning and I can relate to it. I would like to thank you for sharing the program with us. We pray that you have reached your homes safely and peacefully. We miss you!? Phi wrote.
Ning has also been listening to the program. Ning is a widow with four children. The messages she heard were relevant to her struggles in life.
?I am now listening to the program. I cannot help but cry. I was touched by the message. Thank you for your kindness. God bless,? said Ning.
Let us give thanks to the Lord for the opportunity to bring His message of love and hope to weary and burdened women around the world.

Help us continue to bring everlasting hope to listeners in the Philippines through Women of Hope and other programs.