Short Messages of Hope
June 14, 2011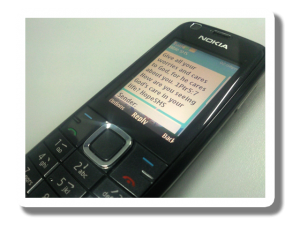 SINGAPORE — If you've been living in Singapore, you'll know that the country relies heavily on migrant workers – especially for filling jobs in the construction industry. Many of these laborers are from China and India, seeking to earn a better living for themselves and their families back home.
Most battle feelings of loneliness, and the sense of being far from family and familiar surroundings.
TWR has been partnering with local missions organizations to reach out to these migrant workers in Singapore. TWR makes available Scripture via HopeSMS – Bible verses sent daily via text messages (in English and Mandarin), to help these individuals to cope with the challenges they face.
A co-laborer working closely with a team of migrant workers shares:
"There is some feedback from the workers. they expectantly wait for the HopeSMS… Many are testifying that it is good to read in the morning."
We praise God for the opportunities to reach these migrant workers. It is our hope that as they are ministered to, they will come to believe in our Lord and Savior. In time to come, we hope that they will be witnesses for Him, not only to their friends here but also to their loved ones when they return back home.
If you too live in Singapore and would like to receive Bible verses (in English or Mandarin) via SMS every day, sign up now!