A Journey Of Transformation
July 30, 2012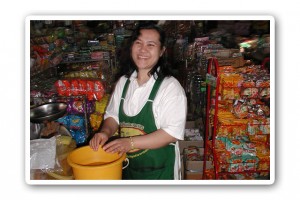 THAILAND — "My name is Natchanok, and I come from Chonburi, east of Thailand. I have been encouraged so much by the Women of Hope program. I feel that husbands should especially tune in to this program in order to understand the struggles we face.
My family has been listening to Women of Hope for many years even though we were not yet Christians then. We kept listening to the programs till we were sure in our hearts that we understood and believed the principles of the Bible. Our family is now confident that the Holy Spirit is with us daily and protecting us every step of the way.
My whole family has now accepted Christ, with my husband being the latest convert. I really praise God as I have seen the reality of Christ in my husband's life. My husband used to gamble, take drugs, was an alcoholic and smoked excessively. Our family suffered for many years because of his addiction to these vices. However, after he came to know the Lord, he has become a transformed person. Through God's grace, my husband has become a new person and my family has become closer.
Despite not being rich, we are now very blessed with sufficient food and money for survival. Before we came to the Lord, we were in debt with our water and electrical supply cut off, but now we have cleared all our debts with the Lord's help!
We are very grateful for the Christian booklets that you sent. It has encouraged us in times of trouble and despair."
We rejoice with this sister as she and her family continue on their journey of transformation, and live out God's goodness in their lives.
To address the desperate need for spiritual food in various parts of Thailand, TWR has partnered Voice of Peace in Thailand to broadcast Women of Hope since September 1999. The program includes information relating to family and life issues, health care, etc. as well as offering hope through God's word.
To support more women and families like this, consider giving to TWR's ministry to women in Thailand