Nourishing the Faith
October 20, 2011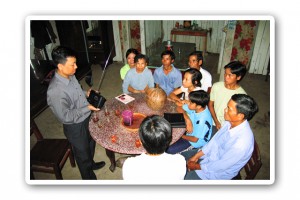 VIETNAM — According to the ministry leader of TWR-Vietnam, TWR"s programs have been well-received by the listeners and church leaders. Several pastors have observed that members of their congregation are more active in church activities after listening to TWR programs regularly. Their congregations have also grown spiritually after listening to the programs.
A Vietnamese pastor shares how his congregation has grown, since they started listening to TWR"s online casino programs.
"I would like to thank TWR for supplying two radio receivers to my congregation. I have since formed listener groups. I thank God that the spiritual lives of the members in the groups are growing, and they love and fear God.

Their lives have changed, and they have become more faithful. More believers have also been added to the church. The listeners have a passion for God?s Word and would actually prefer longer broadcasts!

In order to reach more people, it would be good to have more radios which can then be used to form more listener groups in remote areas. Presently, there are six groups at different locations (comprising about 200 people) without radios or receivers, that they can use to listen to God"s Word."
Do pray that God will provide these groups with the radios needed, so that they can continue to be nourished and encouraged by His word.


Support projects in Vietnam to reach listeners with God"s Word, and help the Church to grow.