Women of Hope – Reaching Husbands and Families
July 7, 2009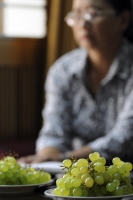 The Apostle Paul wrote in 2 Corinthians 3:2-3, "You yourselves are our letter, written on our hearts, known and read by everybody. You show that you are a letter from Christ, the result of our ministry, written not with ink but with the Spirit of the living God, not on tablets of stone but on tablets of human hearts." (NIV)
Through Women of Hope, not only do the women listeners in Vietnam come to know Jesus, but their attitudes and lifestyles are so transformed that it is hard to go unnoticed by their husbands and families, who are also eventually led to Christ.
'T' had been noticing the changes in his wife's and daughters' behaviour and speech. He knew that they had been going out every night after dinner, but did not know where they went, or what it was all about. He loved drinking but his wife had stopped making wine for him. Also, his family no longer ate the food he brought home from the rites he performed as a medium. 'T' was also fascinated that they would thank a "God" for their food before every meal. When his wife advised him to stop his work as a medium, he yelled angrily at her and felt that everyone in the village was trying to isolate him and that he no longer had any friends except for his drinking companions.
His curiosity got the better of him and he followed his wife and daughters secretly as they went out one night. He followed them till they stopped at another woman's home, and when he got nearer, he could see a group of women listening to a radio program.
One day, he fell ill and was bed-ridden for a few weeks. He was touched that his wife took care of him and many of the women in the village brought food for the family and prayed for him. He recognised them as the group of women who listened to the radio when he followed his wife and daughters that night. They even moved the radio to his house on the pretext that his wife could listen to Women of Hope while taking care of him, but they were secretly hoping that he would listen to it as well. One month later, the Word of God on the program stirred his heart and his life completely changed. He stopped drinking and quit his work as a medium. He was also healed from his sickness.
Today, 'T' has only one regret, and that was not listening to Women of Hope earlier, so that he could come to know God much earlier.

Prayer and Praise
Praise the Lord for the harvest reaped through the Women of Hope program, and for the expansion of listening areas that reach both women and men in other regions in Vietnam.
Pray that God will call more workers into this ministry so that TWR can reach out more effectively to the fast-growing number of listeners and listener groups in Vietnam.