Vietnam | Pray for My Husband
May 14, 2010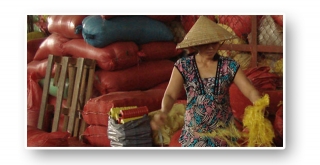 Mrs Nguyen is a new listener of Women of Hope. She wrote that she was particularly interested in the lessons which are taught via the Women of Hope program as they specifically catered to women, and that she was able to find comfort through the preaching.
However, Mrs Nguyen's husband is not a Christian, and he does not allow her to listen to the program or fellowship with other believers.
"My husband is not a believer, so every time I go to church or meet other believers, he locks the door. When I come home, I will find the door locked, and he does not allow me into the house. As a result, I will have to stay with my next door neighbor for a few days. Once, I was in church with other believers, and he came in, pulled me out by the hair and beat me. In spite of this, I felt a sense of peace and I did not cry at all. The things my husband does to me can never prevent me from worshiping God. Over time, he came to realize this, and he does not beat me any longer. Not once did I retaliate or fight him because I learnt on a Women of Hope lesson not to harbor bitterness. Instead, I ought to reflect Ephesians 4:32, 'Be kind and compassionate to one another, forgiving There are dozens of different payout systems used in slot machines . each other, just as in Christ God forgave you.'

Meanwhile, because of the Project Hannah prayer calendar, I now understand more about how other women in the world are also suffering. Even though I am suffering, my problems do not compare to theirs'. I am encouraged by their efforts to overcome their suffering with gentleness. I am thankful that my husband no longer tries to prevent me from practicing my faith anymore, even though he still does not believe. However, I am having problems with my mother-in-law. She oppresses me a lot and takes sides with her son. In spite of this, I am still relying on the Lord and have been patient with them. I know that many women in my situation would have left their husbands and remarried. However, I know that I cannot do that. I pray that God will touch my husband and change him.

These are just some of the ways that I am living my life from what I have learnt on your program. Please send me some materials and CDs so that I can also share these lessons with other women."
Prayer and Praise
Pray for Mrs Nguyen that her husband and mother-in-law will see the difference in her life, and come to know and receive Christ as their Savior.
Pray for other oppressed women in Vietnam, that they will also be encouraged by God's Word on Women of Hope, and that they will choose to live their lives differently as believers.