What He Makes Out of You
November 28, 2012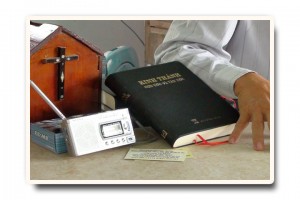 VIETNAM — "Since April 2008, I started sharing my testimony with people around me. I also began planting home churches," said Pastor Cha.
Pastor Cha, who lives in Vietnam, accepted Christ in 1989. He admitted he was not serious in his spiritual walk with God as a new believer then. He went through challenges in life, such as not being able to own a house, which he desperately needed. Finally, in 2007, his prayer for a house was answered.
This marked a new spiritual journey for him as he began to put God first in all matters, including his family and personal life! God also opened doors for him to plant churches in remote regions in Vietnam.
Pastor Cha is grateful that TWR-Vietnam's broadcasts have been assisting him as he ministers to his church members and the locals. He is encouraged that his church members' faith is strengthened after listening to TWR-Vietnam's programs. He is also happy to learn that marriages, which were on the verge of divorce, have been restored after the couples listened to these programs.
He has been praying for God's blessings on TWR-Vietnam's ministry so that more programs can be produced to reach out to locals in inaccessible places in Vietnam.
Praise the Lord that the programs are helping Pastor Cha and those he is ministering to. Let us pray for the unbelievers in Vietnam. May TWR's broadcasts continue to minister to their hearts!
Do prayerfully consider supporting TWR's ministry in Vietnam.