Andreas Rehberg – God is the Same Everywhere
April 25, 2014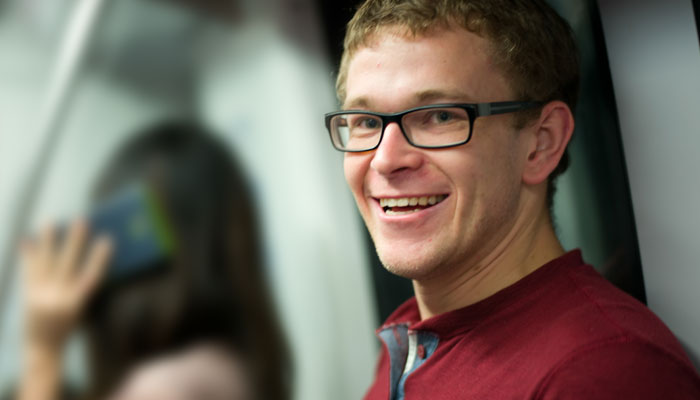 What an amazing journey it must have been for a young European man to find himself spending eleven weeks in a culture totally different from the one he's used to. Andreas Rehberg had the chance to volunteer with TWR in Singapore – one of the most bustling cities in Southeast Asia. We had a chance to catch up with him in the Singapore office during his time here.
The first thing one would notice about the tall, strapping, blonde gentleman would be his good command of English, accented with a slight tinge of German.
Andreas was a whirlwind of energy and we could definitely sense the positive excitement bubbling from him as he speaks about his time here in TWR Asia's Singapore office as well as his first mission trip to Cambodia.
Here are some snippets from the very entertaining interview.
Tell us about yourself, and how you came to know about TWR.
I'm a student at Giessen School of Theology in Germany. At my seminary we have chapel four times a week where either someone is preaching or different organisations are presenting their ministry to the students. Last year Philipp from TWR Europe presented the media ministry of TWR at my seminary.
Tell us about your overall experience at TWR Asia.
It was pretty much an eleven week Southeast Asian adventure trip with different personal guides as the staff took me around whenever they could. I got a deep insight into the local culture as I arrived during Chinese New Year. During the weekends, I was able to visit many places and try the local food. Sticky rice with mango was awesome (Editor's note: Which happens to be a Thai dessert, Andreas)! I also had the privilege of visiting different churches during my stay there as a different team member would host me each Sunday. Towards the end of my time there, I also went for a mission trip in Cambodia.
What was your main role? What were some things you learned during your time here in Singapore with TWR Asia?
I was working on a paper on Employer Branding and Employee Satisfaction for the HR team. It included researching and identifying best practices and suggesting how we can apply them at TWR Asia. I had to conduct several surveys for that. I also did research to find solutions for a better work environment in the office. My HR managers, Nicole and Christina, are great to work with.
I learned that in order to fully understand a system, you have to try and change it and that changing it takes more than just a good idea. Throughout my weeks there, I slowly learned about the ministry projects that TWR is involved in. And as I was in the HR department, I could grasp a better understanding of general HR policies and in particular, HR marketing. I learned how to adapt in a new environment. However, as a European, it was sometimes hard to understand Asian culture although it was very interesting. Amidst all the busyness, I picked up a new skill – eating with chopsticks!
This being your first time in Singapore, what are some of your impressions and experiences from the places you went or people you met?
Before I came here, all I knew about Singapore was that it is modern and clean..
When I arrived, I found out that many things were not allowed in Singapore. These included "No- swimming, no fishing, no eating and drinking beyond this point, no durians, no smoking, no flammable goods, no pets, no photography, no graffiti, no guns, no talking on the phone, no throwing noisy kids out of your cart." It was actually pretty funny.
Pretty much all the places in Singapore, including beaches and parks, are man-made. This showed me on one hand, the fantastic skills people have, and on the other hand how big our God is because real nature is so much nicer to me. I missed the "real thing" as I'm from the countryside back home.
The people I met were very friendly. Asian hospitality is outstanding. During the weekends, someone from the staff at TWR Asia would bring me to visit a place or to their church, and there was always someone there for me when I needed help.
What will you remember most about your time in Singapore?
The people, the food courts, commuting on the MRT, Singlish lah(!), attending services at the big churches, exploration of all the parks in Singapore, eating chicken legs and pig intestines, the devotion and prayer times every morning in the office, the positive atmosphere in the TWR Asia office, my colleagues looking out for opportunities for me to get my potato-fix, jogging at the Punggol waterfront, playing pool and badminton, Ku de Ta, Equinox (and other nice places), my trips to Cambodia (including Angkor Wat) and Bali, Universal Studios Singapore, having good talks with my supervisor, the heat, the haze.
You mentioned a mission trip to Cambodia. What stood out for you during your time there?
Cambodia seems to be a country where radio plays an important part in the lives of the people there. I was looking forward to getting some good insights on the TWR's ministry in Cambodia.
TWR also has a team in Cambodia that I could go along with during their ministry trips to the villages. The team was young, dynamic, and committed to what they were doing. They had good knowledge of the needs of the villagers they were reaching out to. I realized that the staff members had many skills that enabled them to serve in a place such as this. They had to be flexible, motivational and encouraging. They also had to be good with presentation and interpersonal skills while ministering to the children, youths as well as orality groups. Besides that, some also needed radio program production skills as well as other office related knowledge.
Tell us about what you experienced during the trip, and how it touched you.
I experienced the love the TWR Cambodia team had for others, and saw how they always related with the villagers with appreciation and respect, and in a way which showed humility. It also moved me when I was at the floating village, and saw the conditions people were living in. They had nothing more than the clothes on their backs and the river on which they depended. It was something I had never seen before. That was truly an experience.
Missions had never interested me before this trip, but now I see the relevance of the ministry after experiencing the place where the people live and seeing what it is like out there. I now have a bigger heart for it and it is more likely for me to pray for this ministry from now on.
Do you have any encouraging words for others who are thinking of taking their first mission trip?
It might not be easy for one to take a step out of their comfort zone, but it can be a wonderful experience. It is not about how much we can do but rather about how much the people need God. Although we may not be able to change their living circumstances, Jesus can change their hearts and give them peace. I saw joy in the eyes of the believers in the village as opposed to the sadness in those who do not yet know Jesus. To me, that was already worth my trip.
My trip to Southeast Asia has shown me that in faraway lands where the people may be different from those in my home town, God is always the same.