Back From The Brink Of Death
March 4, 2014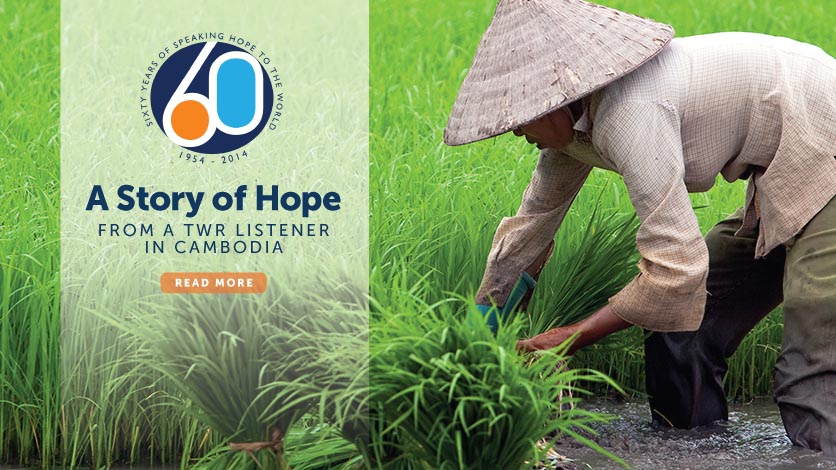 CAMBODIA — A visit to a remote village in Cambodia brought salvation to a sick girl, her family and the villagers, a TWR Cambodia staff member recounts below.
It was not part of my plan to visit Mot's village. I was tired and weary because of things that happened in my own family, but somehow, the Lord prompted my heart to go for this field trip.
Upon my arrival at the village, I saw Mot's family in great anxiety. They were making a makeshift stretcher from a pole and a hammock. I asked them what happened and soon learnt that Mot – their 15-year-old daughter – needed to go to a nearby hospital and that taxi drivers were unwilling to pick her up because they feared she would pass away on the journey. They felt such a death would bring bad luck to the vehicle. There were also rumors spreading in the village that Mot would pass away anytime.
After some time, I saw two men carrying Mot in the homemade stretcher. When I saw the girl, she tried to express to me that she was in great pain. It was heartbreaking when I saw her being carried the way one would transport an animal in the village. The Lord put these words into my mouth as I assured Mot, "You are going to be all right. Trust and believe in Him. He is the same God in the Bible story I told you."
The family members lacked faith that their daughter would live, and I prayed for them to have peace. I also gave them some money for Mot's treatment and transportation to the hospital. I prayed for God to send a taxi driver to send her to a better hospital in town – and he did!
Just before Mot left, we received the first sign of a miracle from God. Mot said that she was very hungry and wanted to have some rice. She had been unable to eat for one week prior to that.
The following day, we received the news that she was able to sit up in bed and was better. The doctor informed us that she was cut by a sharp piece of bamboo, and this cut resulted in tetanus. I later learned that her condition worsened because she was sent to a witch doctor. The witch doctor had told the family Mot would not be able to survive.
A week later, we visited Mot, who had recovered well at the hospital. We noticed she wore a "charm" wrist bracelet given by the witch doctor. We asked Mot and her family for permission to cut off this bracelet as Jesus was now with her. They agreed happily.
A friend who had accompanied me to the hospital was amazed at what the Lord had done. My prayer is that Mot would return to the village to share the wonderful news.
On our next trip to visit her, we gave her family an MP3 player with our programs included. I am sure that by listening to God's word, they will confess with their mouths and believe in their hearts that Jesus will save them.
Praise God that Mot and her family have now put their trust in Christ and the villagers have come to know Him through their story.