Beyond Our Imagination
May 26, 2014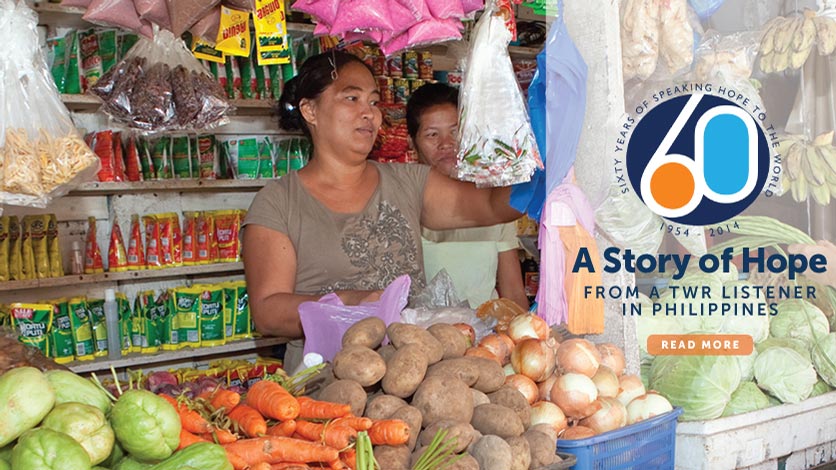 The Philippines — "Dear Lord, thank you for the ministry you have entrusted to us. We are grateful for the opportunity to bring the message of your Gospel to children. However, we are running out of teaching materials. Please provide for us," Dr. Maria in the Philippines prayed.
Dr. Maria used to be an anthropologist. Two years ago, after seeing the destitute state of people living in slum areas, she decided to minister to the children living there. Her objective was to educate and reach out to these children. Unfortunately, though, there was often a lack of educational materials and teaching aids. Together with her co-workers, they began to pray for God's provision in this area.
One day, while tuning her radio, Dr. Maria accidentally tuned to TWR Philippines' radio program Little Lights. The program presented narrated Bible stories, songs and materials in ways that children could enjoy and have fun with while still learning about God.
Dr. Maria was so excited that God had answered her prayers in this way. This was beyond what she had imagined! She contacted TWR staff in Philippines. "We have been praying for friends to help us. Your program is the answer to our prayers!" she said.
TWR staff members sent her audio CDs featuring the Little Lights programs. In this way, not only would the children benefit from listening to the programs, but Dr. Maria also could obtain ideas regarding how to create educational Christian content for children.
Today, Dr. Maria's ministry continues to reach out to children in in the Philippines. Truly, our Lord answers prayers in ways that we do not expect.