Footsteps: The good, the bad and the curious
Andy Napier
August 25, 2017
When I was a young boy, I remember my dad telling me about a conversation he had with an elder in a nearby church. In fact, this man served as the chairman of his church's session. Daddy asked him, "So, how do you believe you make it to Heaven?" The man responded by saying, "I believe God puts all of your good deeds in one sack and your bad deeds in another, and he weighs them to see which one is heavier."
That's not biblical! Your good works will not get you to Heaven. My father knew the truth, and so do I.
The Bible says, "For by grace you have been saved through faith. And this is not your own doing; it is the gift of God not a result of works, so that no one may boast" (Ephesians 2:8-9, ESV).
That text is pretty clear — our salvation is "not a result of works." We are saved by a gracious God through our faith.
So, what do I mean by faith? Paul and Silas summed it up well when they answered the Philippian jailer's question of "'Sirs, what must I do to be saved?' And they said, 'Believe in the Lord Jesus, and you will be saved'" (Acts 16:30-31, ESV). You see, you can't earn your way into Heaven. We are graciously awarded Heaven by simply believing in Jesus.
| | | |
| --- | --- | --- |
| | | People in Pakistan are curious about Christianity. |

Learn more about our PANI (Pakistan, Afghanistan and Northern India) broadcasts.
---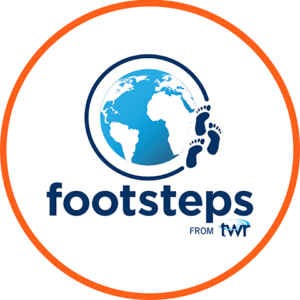 More about Footsteps
Footsteps is a two-minute program by Andy Napier revealing God on the move around the world.