Giving Back After Receiving Blessings
February 24, 2014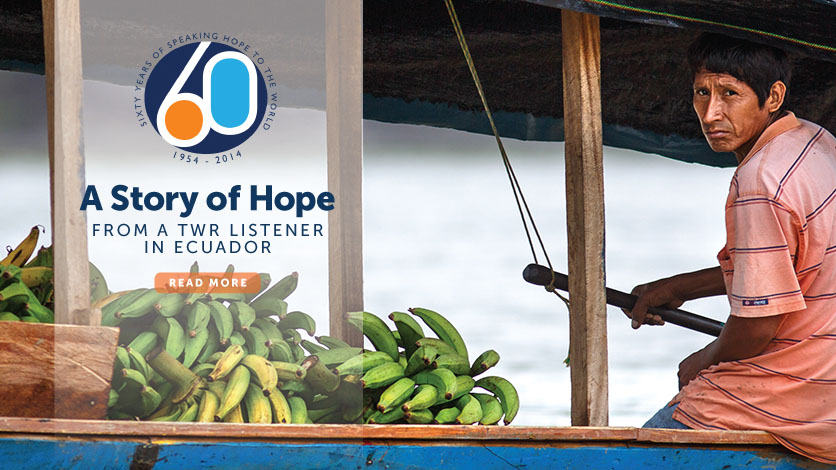 ECUADOR — César lives in Ecuador and listens to the Quichua language version of Women of Hope. He got in touch to share his testimony with Project Hannah, which, in addition to the radio broadcast, sponsors a movement that brings together volunteers to pray for women in difficult circumstances around the world. This story also highlights the advantage that TWR's audio outreach has in meeting the needs of the roughly three-quarters of a billion people in the world who are illiterate.
I didn't know how to read or write, but just by listening to the Bible teachings, I have learned to read and now can do it quite easily. When I listen to the programs, I feel like I am in the Lord's presence – in other words, in heaven. I can't begin to describe the great joy that I feel.
I would like to share with you the following testimony. My wife was sick and continued to get worse because she had a problem with her stomach. Because she has no teeth, she could eat only liquids. The doctors said that she needed an operation but that it would cost $300. For us, this amount is impossible. We could never save up enough.
Our lives became very afflicted and desperate, but when the sisters in the Bible study explained that there is hope in the Lord, that night we got on our knees. As we were praying the Lord spoke to us and told my wife and me that we needed to forgive each other, which we did, and then we cried out to God to take care of us and bless us. From that moment, my wife regained her strength and healing in her body. From that day, she can now travel, do any activity and eat with care.
My wife and I work alone cultivating a small area of land where we live. Thank God that land produces different grains and herbs abundantly. As a result of this, I bought a calf, which, when it became an adult, gave birth to another calf.
Now I can sell milk every day, and I have enough to live on. But with gratitude to God for the radio, I set apart my offering to support and be a part of the sharing ministry.