Let Freedom Ring
May 19, 2014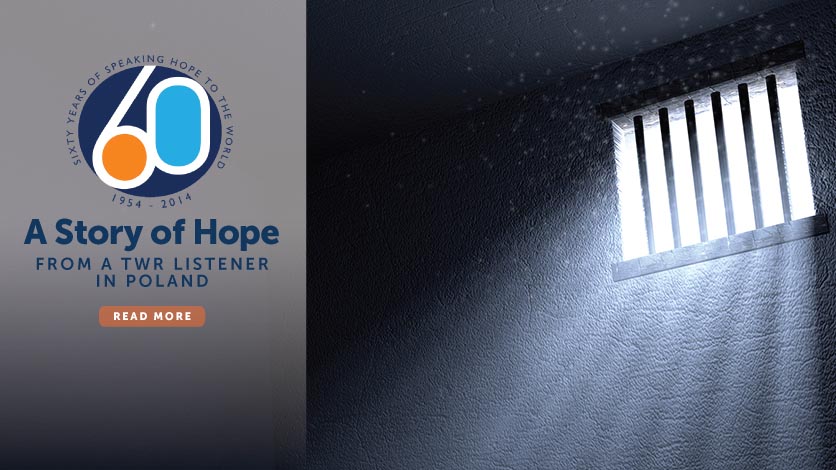 POLAND — A man behind prison bars found freedom in Christ. Here is his story:
I stood behind iron bars, hearing terrible sounds in the hallways and smelling the rot of my cell. I looked into the eyes of the desperate and hopeless, realizing my life was doomed to failure and anguish. Sentenced to 15 years, I tried to kill myself more than once, but it was in vain. Even death refused my companionship!
One night, after everyone was asleep, I was flipping through the radio stations and came across one that would soon change my life forever! Someone was talking about the love of God that forgives, restores, and gives joy and peace. I was raised to believe that love is a lie. No one loves genuinely or sacrifices without expecting something in return. I was taught that God loves people, but they had to be good and righteous. For God to love a wretch like me was out of the question. Yet the announcer said, "The love of God goes beneath the deepest stain that sin could ever leave. It redeems souls to live again." Oh, how I needed to live again!
I became addicted to listening to Trans World Radio. I woke up early every morning to listen to its programs. At night, it was the last thing I heard before I slept. One night, I heard a hymn that was calling me to make a lifelong decision: "Come, ye sinners, lost and lonely; Jesus' blood can make you free; for He saved the worst among you when He saved a wretch like me." I bowed my head and cried out to the Lord. Suddenly, the gloom and fretfulness were gone. Instead, joy and peace filled my heart.
I started corresponding with the TWR team, who helped me grow in my journey and relationship with the Lord. In a miraculous way, I was able to have the Bible. I started witnessing to my fellow inmates. As many as 10 of us used to gather around the radio to listen to TWR. One day, a prisoner asked, "What's the secret of your constant smile and joy, your self-control and good behavior? I want to be like you, what shall I do?" After testifying to him, that prisoner accepted the Lord as his Savior, and together we started Bible study groups in prison.
For five more years in prison, God used me to witness to the broken hearts, and he healed their souls. Once I was released, God prepared another vital ministry for me. I was passionate to tell my family, friends, all those who live in darkness and ignorance that the only way for true freedom is through Jesus Christ.
I am committed now and until I meet my King to let freedom ring. I join my voice with the songwriter and say: "Let freedom ring down through the ages from a hill called Calvary, Let freedom ring wherever hearts know pain. Let freedom echo through the lonely streets where prisons have no key. You can be free, and you can sing let freedom ring!'