Restored Through Love and Peace
January 7, 2014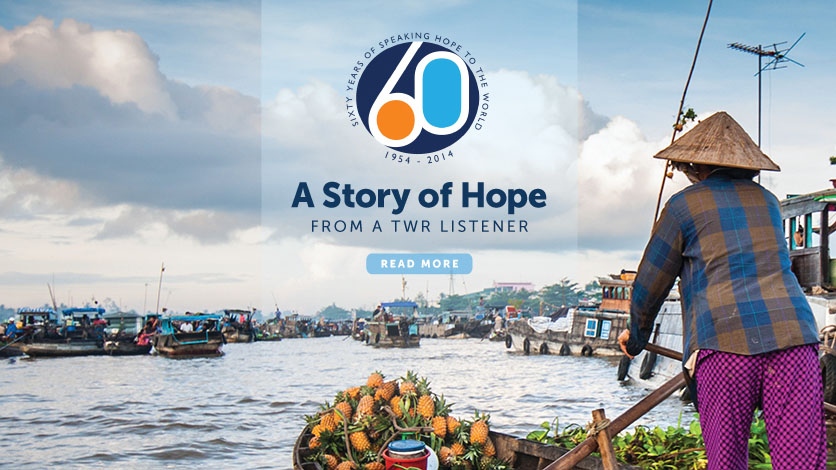 Listeners are at the heart of everything we do, and we simply can't get enough of their feedback – who they are, what kind of impact TWR programming is having on them, how God is working in their lives. For 2014 we have assembled 60 compelling, representative responses into a special booklet and will feature one response online each week in celebration of our 60th anniversary.
VIETNAM — Mary is an avid listener of TWR Asia's programs in Vietnam. She is actively involved in church activities, such as organizing Bible study classes for the various age groups. She also visits cell groups to follow up with the needs of the members.
Looking at her today, few would have guessed Mary's past. Her dreams for an ideal family were shattered upon her husband's sudden death. She lost all hope in life, and darkness overwhelmed her for a prolonged period of time.
Mary shares, "I was about to give birth to my first child and saw myself as a woman who had just fulfilled her dream of having a blissful family. It was during this period that I received the fateful news that my husband was killed at war, just a few days before I gave birth.
"Four days after my husband's burial, I gave birth to my first child. Grief filled me when I looked at my newborn son, and I seriously wondered if there was a living God who cares."
Mary's world came crashing down. In her desperate state, she felt abandoned and alone. The heavy burdens as a young single mother weighed upon her. She never expected that her life was about to be transformed overnight through a radio program.
"I had accidentally tuned into a channel that was touching on the story of Jesus washing his disciples' feet. The responses that Jesus gave to Peter in John 13:7 – who was initially reluctant to let Jesus wash his feet – spoke to my heart. Jesus said, 'You do not realize now what I am doing, but later you will understand.' I cried and prayed to God to reveal his plan for me. I committed my life to Him and started to feel a peace in my heart, which I had never felt for a long time."
Mary was the first in her family to believe in Christ. From a young age, she adopted her parents' religious practices and beliefs.
"My mind never experienced complete peace even though my parents claimed that my soul could rest once I did what they advised. It was only when I accepted Christ as my savior that I know what true peace meant. This peace in me is visible in my facial expression and how I treat others around me."
Mary recognizes that the Lord has blessed her with the priceless experience of his peace that has helped her gain victory over her sadness and loss.
"I now participate in church activities, such as visiting Bible study classes and women's groups," she says. "I give thanks to Him that my parents and siblings are also saved. My son has enrolled in a Bible college, and his wife plays an active role in church ministry."
Indeed, our God is one who hears and answers in times of need. "I hope that my favorite verse from John 13:7 will encourage those in trials and tribulations like it did for me."
---
In a few weeks, these stories will be available to as a free gift booklet. To pre-order your copy, register here. Unfortunately we cannot guarantee delivery outside of the continental U.S. at this time, but stay tuned for a free digital download as well.