Guam team repairs antenna (updated)
May 20, 2015
---
Update: 21 May 2015
The Guam team believes the damaged antenna will be restored and back on the air Friday. The curtain antenna, which was lowered, dismantled and is being rebuilt, is three-fourths of the way back up.
---

The Guam team and volunteers are making good progress in restoring the antenna damaged during Typhoon Dolphin.
The typhoon hit Guam on 15 May with heavy rains and winds of more than 160 km/h (100 mph). It caused major damage to one of the antennas.
The curtain antenna is being lowered, dismantled, and rebuilt.
By the end of the day Wednesday, the team had the antenna a quarter of the way back up, according to Mike Sabin, chief engineer of KTWR, the station on Guam.
The team will continue attaching rows and pull the antenna farther up Thursday.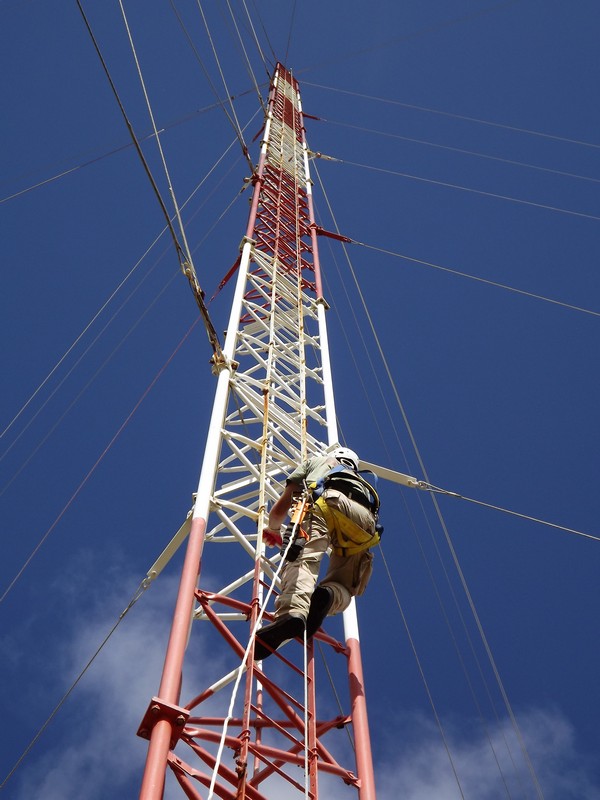 "We will have less volunteers at the station [Thursday] so it is difficult to estimate how far we will get," Sabin said. "We are definitely further along than we expected by this time."
KTWR shortwave transmitters send out a wide range of gospel programming in multiple languages to much of Asia.
For the most part, programming has not been affected.
Pray for the team as they continue to repair the damaged antenna.