Notice Anything Different?
August 1, 2011
After lots of blood, sweat, and tears, the new TWR-Asia website is finally "live" as at 1 Aug 2011!
You may have noticed some difference between this site and the previous one. To help you get accustomed quickly to the new site, here's a quick walk-through of some of the main highlights.
Home Page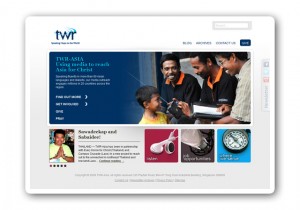 Within the main image, you will be able to find out who we are, what we do, and why we do it. You can also find out what we believe, as well as where we serve. Got more questions? Get them answered at the FAQs!
You will also be able to discover ways in which you can Get Involved with our ministry, and Pray for us.
Latest News/Updates
At the bottom left corner of the Home page, you will find the latest news or updates about our ministry in Asia.
Next to the news updates, you will see three boxes…
Listen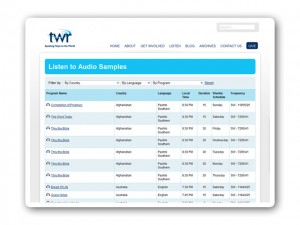 This will take you to the Listen page, where you can view our schedules of programs broadcast in Asia, and listen to samples of each program.
Most of the programs listed already contain a sample. There are still a handful for which the sample episodes are still not available. We are working to put that right, so please bear with us in the meantime.
Job Opportunities
This box will change regularly to highlight certain events or happenings in TWR-Asia. Currently, it will take you to a listing of the latest job openings we have.
Where We Serve
A quick link to find out about our ministry in various countries across Asia.
Social Media Buttons
A new feature of this site is the inclusion of social media buttons, to integrate with the million or so social media platforms that are currently available.
If you look to the right of this page, you will find a tab containing links to our Facebook, Twitter, and YouTube pages. You can also sign-up for our e-newsletter, Ripples and read archived issues.
As you navigate the site, you will also find buttons at the top right corner of each page that will allow you to quickly share the page with your friends on Facebook, or your followers on Twitter.
Well, that was a quick walk-through of some of the main highlights of our new site. Now, go explore it further, and do let us know if you come across any bugs or have suggestions which you feel will help improve the site (using the Contact form at the top right section of every page)!