First Presidential Address to TWR-Asia Family
June 4, 2009
By TWR President Lauren Libby
TWR-Asia Family Dinner, 15 May 2009
It's nice to be here with you, and to hear what God's doing all across Asia. It's absolutely amazing, how God is using the ministry of TWR.
My wife June and I are some of the newest members of the TWR family, we joined on the first of December, and we hope there are a lot more TWR family members who are coming right behind us. Over the last several months, I began to work on the 5 priorities of our organization. As we move forward, there are several interesting items that I would like to talk about.
One is the culture that we live in. It's great to be together here tonight, and experience a culture of grace: where we accept each other and are part of a family. The first thing that I'm really praying about the TWR family is our culture. That God will bring us together as a family, that we will experience an environment of grace, along with our servant leadership training we will then receive. And you know what? That's going to be very important, because people will join this family. I don't know about you, but when I want to join a group of people, I look inside and if I see someone like me, or if I feel the culture, then I want to join that family. And you know what, when people join our family, they feel our culture. And what is a culture? Well, it's a common language, it's part of the way we relate to each other, it's the way we trust each other, it's the way we deal with each other… that's what really culture is. And so, a common culture of grace.
The second thing is to make sure that our existing platforms are very strong and are culturally relevant, and they deliver ministry – the name of Jesus. You know, there's not a moment in the day, 24 hours a day, that TWR is not talking to someone, somewhere, on this globe, about Jesus Christ. And we need to keep those platforms very strong. In fact, we probably need to find a few more around the world if we can find them.
The third thing that I'd like to work on as a family is the development of new platforms, the new digital platforms. You know what? This is a great time to be alive. It's a great time to be alive in human history. Can you imagine a hundred years ago, we would not be sitting here because what we're talking about was not even discovered. And the things we're beginning to discover in the digital arena, we'll consider them to be old five years from now. Jesus knew what he was doing when He created the universe. He put zeroes and ones, He put all kinds of digital technology, and we're getting to discover it. And it hasn't caught Him by surprise.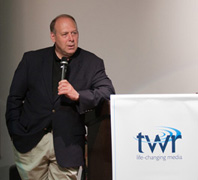 Fourth thing is to resource the organization. That means fund raising and new cooperating broadcasters. A mentor of mine said to me one time, "no money, no ministry." And so, that's going to be very important as we move into the future, that God will provide the resources. Now, if you've been reading ClearFrequency, one of the things we've been talking about is: we really need to pray during this global economic crisis. That God will continue to provide the finances for TWR. You know, it doesn't come through your fancy fundraising materials, resources don't come through great strategies, though those are very important. Philippians 4:19 shows us, "my God will supply all your needs according to His riches in glory, in Christ Jesus," and that's who we look to, to supply the resources for the organization.
And the fifth thing is, we look forward to welcoming the next generation of the TWR family. We're recruiting, and everyone here tonight is a recruiter for TWR. You know why you're a recruiter? Because people look at you and you embody TWR.
Those are the five things I'm praying about for the organization. And really, as we look forward to a great future together. You know, we have a great vision, we have a great calling. It's to proclaim the name of Jesus around the whole world by mass media so that lasting fruit is produced. I hope everybody's got that on a 3″ by 5″ card and you've memorized it. Because that's what God has called us to do.
One final thought, let me share a couple of Bible verses from Isaiah 41:9-10. "You are my servant whom I have called, and I have not cast you off. Fear not, for I am with you. Be not dismayed, for I am your God. I will strengthen you, I will help you. Yea, I will uphold you with my victorious right hand.
I memorized these Bible verses when I was about 6 months old in the Lord. And I think the Lord has used them almost every day in my life. God has brought those two Bible verses back to me. And the reason for it is because we have a calling. Each person has a calling, a unique calling. And we're all called in TWR, I don't believe you'd be here if you didn't have a calling on your life.
Secondly is the idea of not fearing. Fear brings paralysis to us individually. Fear brings paralysis to an organization. Fear takes away our ability to see the future the way God wants us to see it. "Fear not." Why? "Because I am with you. Be not dismayed." You know, the lion roars. The enemy roars. But be not dismayed, for I am your God. I will strengthen you, I will help you. I will uphold you with my victorious right hand. And that's what I'm praying for each one of us. That God will keep us from fear, God will give us a real spiritual sense of calling, and the Lord's hand will lay on each one of us, and we will sense His presence daily. As we spend time with Him.