Philippines | Typhoon Updates (20 Oct 2009)
October 20, 2009
Over the last few weeks, the Philippines was hit by two typhoons. The first was Typhoon Ondoy, and a second one which hit Baguio (Typhoon Pepeng), which was of greater magnitude than the first. The victims and rescuers of the first typhoon had barely recovered and were not ready for another disaster.
According to a National Disaster Coordinating Council (NDCC) report, Typhoon Ondoy claimed the lives of 277 people and displaced over half a million families comprising over 2 million individuals.
TWR staff based in Manila was involved in the clean-up operations after Ondoy, and worked with the different churches in the area.
While Typhoon Ondoy was given greater coverage in the media, Typhoon Pepeng was no less significant. As of 12 October, the current death toll from Typhoon Pepeng had reached 200, and the sad message that came through from our staff then was that "the bodies that were wrapped in blankets all came in various sizes, mostly children".
Responding to the needs, the TWR-Philippines team was immediately mobilized. As they made their way through the disaster zones, laden with mountains of debris and the unhealthy stench of the aftermath, residents shared their stories of survival. They shared it not only with descriptions of what happened, but also with deep sadness in their eyes.
We thank the Lord that all TWR staff in the Philippines and their families are safe. The National Director of TWR-Philippines, Jim Reyes, had personally called every staff member to be appraised of their situation.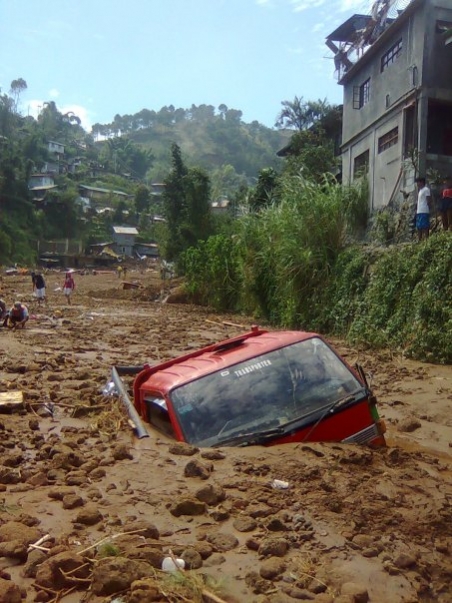 He sent a message for help on 12 October to the TWR family, and noted that "the team in Baguio City is involved at various relief operations sites that has been quickly set-up by government and other private organizations. TWR-Philippines is in these areas volunteering manpower in serving people severely affected by the damage of Typhoon Pepeng…TWR staff was in the midst of rescuing people who were trapped under their collapsed homes, helping the Philippine army and coast guard dig through tons of mud and debris. Unfortunately, there were more dead bodies recovered than rescued alive. We mourn with those who lost their loved ones, their cries of agony has marked deeply in our hearts."
One main obstacle in Baguio, literally, was a main road that had been blocked, and supplies were not able to reach the main disaster area. The situation in Benguet — where Baguio is located — was dire as gas stations were running out of gas and people were fighting for what was left (for cooking and for cars). The food supply was also diminishing fast and unscrupulous sellers had taken advantage of the situation and raised prices by 100 percent or higher. Supermarket shelves were also being cleaned out. Some of the urgent basic needs included food, clean underwear and clothing, supplies for children, and blankets.
As the government worked on recovery efforts, TWR-Philippines' efforts were focused on relief operations as hundreds of evacuees flocked to relief centers in Benguet and La Union for basic needs such as food, clothing and shelter. To meet the immediate need of the evacuees, a Soup Kitchen was proposed and funding from the region was diverted to support this effort. The Soup Kitchen would feed about 200 people in La Trinidad, Baguio City and 200 people in Naguilian City, La Union. The team aimed to run the Soup Kitchen for two full weeks. It was run in partnership with local churches and civic organizations such as the Red Cross, the NDCC and local Christian Churches in Baguio and La Union, and would be staffed by volunteers.
In answer to prayer, news came in the next day that the road was being cleared, and that aid and relief (food and fuel delivery trucks) would be able to reach the people who needed them. Thanks to generous donors, who had given supplies and money, and government attention which had shifted from Manila to Baguio, more aid and relief were made available. The immediate needs for relief goods have been met. What is really needed right now is rehabilitation, and materials to build new homes.
According to rescue teams on the ground, there are other communities of people in the mountains who are trapped, but rescuers are not able to reach them yet. Rescuers are doing their best to reach more communities but are also prioritizing safety because many rescuers have died already. Please pray for accessibility and protection, especially for the rescue workers, and that the survivors would be able to remain alive till help gets to them.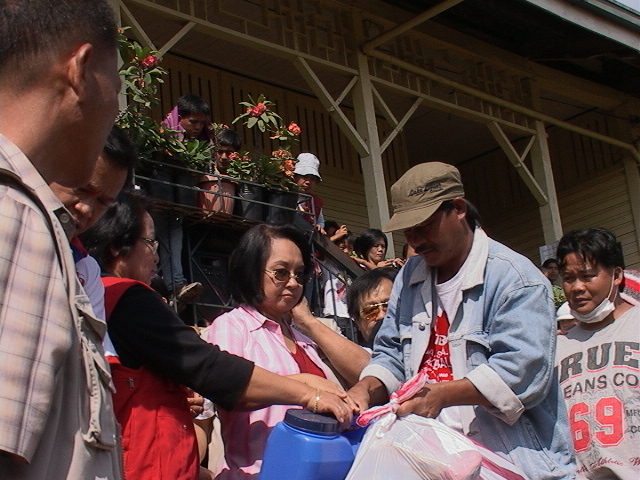 There were some light-hearted moments despite the crisis. Laughter — a rare commodity given the current situation — was heard on 14 Oct when the team was in such a rush to distribute food to victims and rescuers in a particular area, that they arrived at the area even before the rescuers did! The President of the Philippines, Gloria Arroyo, also visited the evacuation centre where the team was serving, and helped to distribute relief to the victims. Her visit lifted the spirits of those present — volunteers, rescuers and victims.
Since then, the team managed to buy and distribute necessities to more victims. However, the latest news (as of 12 hours ago) is that a super typhoon that is more powerful that the previous ones (Typhoon Ramil) is headed towards Northern Luzon. We will continue to monitor the situation and provide updates as they become available. Please pray for a miracle, that Typhoon Ramil will avoid the Philippines. So far the casualties from both Ondoy and Pepeng number about 670.
Prayer Request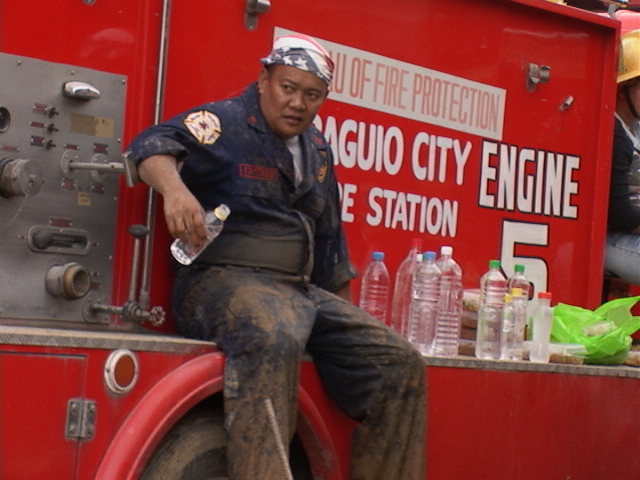 Here are other prayer requests from the TWR-Philippines team. Please continue to pray for the following:
1. Electricity – please pray that there will be a stable supply of electricity in the coming days. Electricity is being rationed in some areas, and at times the office in Baguio does not have power. While there is a backup generator, gasoline is becoming a scarce commodity in the city too.
2. Road situation – roads going up and down Baguio City are closed because the government is currently working on clearing operations. There are some areas where the roads have been totally damaged. It will take up to a month to have full access to Baguio city.
3. Partners – please pray that many would step-up to assist us in helping the people of Baguio City and La Union.
4. Swift coordination of help – we would like to keep relief operations as simple as we can. Please pray for God's wisdom as the staff work on getting things done quickly.
5. Pray also for those doing relief work and volunteering for this, as they are getting worn out, especially those in the uniformed services. The need is too great to meet, but let's thank our Mighty God, for He is greater than disasters, relief efforts and human comprehension. Thank God for protecting our team members. They are safe but do continue to pray for their safety as they are placed in opportunities to serve the affected victims and families. The soil is still damp and wet, and the Red Cross has said that a little rain may start another landslide in the critical areas.