Sounds of Hope
April 27, 2010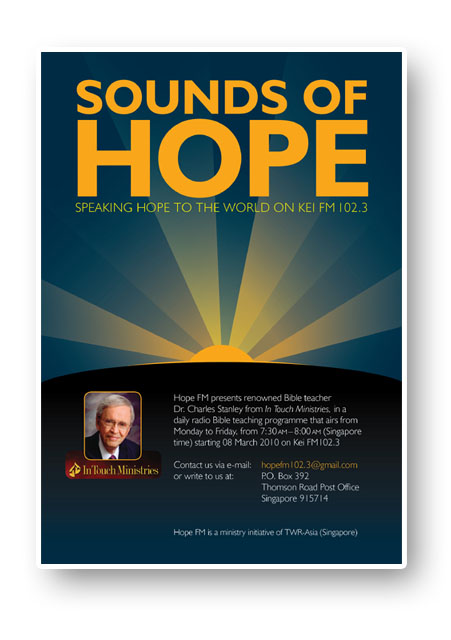 Ever wondered what HOPE sounds like? Tune in to HOPE FM 102.3 every weekday morning to find out!
HOPE FM presents renowned Bible teacher Dr Charles Stanley (from In Touch Ministries) in a daily radio Bible teaching program. Dr Stanley tackles issues such as parenting, finances, personal crises, emotions, and relationships, while providing instructional teaching for personal spiritual growth focusing on prayer, the character of God, fellowship through the Holy Spirit, and the person of Jesus Christ.
HOPE FM airs from Monday to Friday, from 7:30 – 8:00am (Singapore time) on FM 102.3
Contact HOPE FM via email or write to:
P.O. Box 392,
Thomson Road Post Office
Singapore 915714
HOPE FM is a ministry initiative of TWR-Asia.