Sounds of Hope Turns One!
March 19, 2011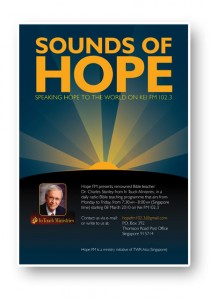 SINGAPORE — Just this past week, HOPE FM celebrated the first anniversary of its broadcast, Sounds of Hope. This broadcast is in partnership with Dr Charles Stanley's In Touch Ministries. We thank God for the blessing of being able to partner In Touch Ministries, to reach the region with the solid teaching of Dr Stanley.
Aaron Low, coordinator of HOPE FM, said,
"It seem liked it was an improbable task at first, as we did not know where to start and how to get it going. We had a blind lead and we pursued that, and prayed and trusted God to open doors…and open they did! We saw how various "coincidences" led us to meet with the right people, who helped us get the program on air. It was clearly through prayer and trusting in His leading, and that gave us encouragement to overcome the challenges and the difficulties that lay ahead. Indeed His ways are marvelous and beyond our comprehension."
A listener from Singapore wrote,
"I have been listening to the program daily for some time now. I find the messages very encouraging and pray that I will be able to lead a Godly life as I seek Him daily and trust in Him. The program has taught me how to resist the devil and his temptations by putting on the full armor of God."
Aaron continued,
"Moving forward, we pray for greater open doors and partnership with many others to put more programs on air to bless the community and speak hope to listeners in this region."
If you have not yet done so, you can listen to Sounds of Hope on FM102.3 every weekday morning from 7.30am to 8.00am (Singapore time), and 6.30am to 7.00am (Indonesia time). Do remind your friends of this precious resource and blessing to engage with God's word daily during their morning commute!