To Cambodia, With Love
January 26, 2011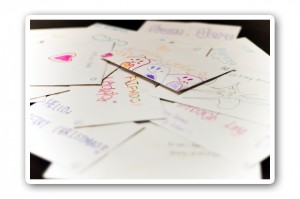 CAMBODIA — In an age of digital technology and communication tools such as email and instant messaging which connects the world almost instantaneously, it was heart-warming to know that children from Trinity Methodist Church (Singapore) were writing good old-fashioned Christmas cards and letters to their counterparts in Cambodia.
Last November, a stack of beautifully decorated envelopes containing the cards and letters arrived at the TWR-Asia office addressed to children in Cambodia.
Mrs Blossom Phillips, a missionary with TWR, was invited by TMC's Children's Ministry to conduct a series of teachings on missions for children over five Sundays in September. With guidance from Blossom, the children began writing letters to express their prayers for the physical and spiritual needs of the Khmer children.
The letters were translated into Khmer by a TWR-Cambodia staff, and then distributed to the children. The Cambodian children responded by replying to the cards and letters, which were subsequently translated into English by the TWR-Cambodia staff, and sent to Singapore for the children at Trinity Methodist Church.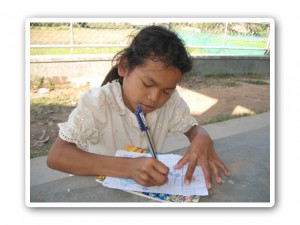 TMC has always encouraged children to get involved in missions at an early age. Among their efforts involved the children putting aside savings from their pocket money into containers which they had made. These savings would then be used to purchase radios, which in turn will allow the Cambodian children and their families to listen to Christian programs in Khmer. TMC also hopes to take the children to Cambodia in 2011 to meet their pen pals!
TWR-Asia is thankful for this opportunity to partner Trinity Methodist Church, and is grateful for TMC's contribution to TWR-Cambodia. We look forward to more partnership opportunities in future!
(adapted from Saltshaker, with permission from Trinity Methodist Church)