TWR-Asia Partnership Conference 2011
March 31, 2011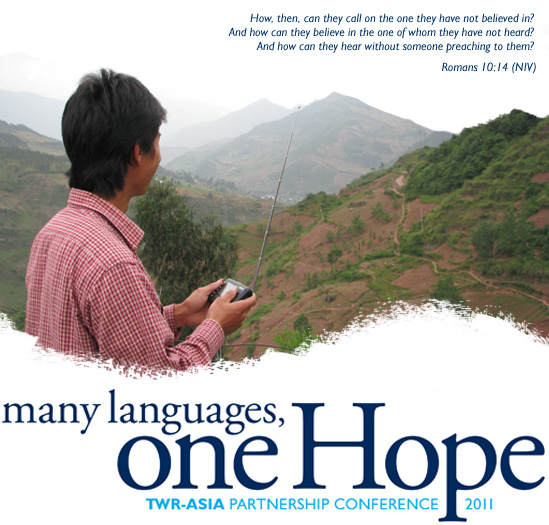 You're invited!
TWR-Asia's Partnership Conference 2011 will be held at Bartley Christian Church from 24 to 26 May. Come and see how the Lord has been working through TWR in Asia, specifically in our six strategic areas of ministry.
24 – 26 May 2011
Bartley Christian Church
4 How Sun Drive
Singapore 538526

Admission: Free
Night Meeting with Lauren Libby
There will also be a special night meeting on Tuesday, 24 May where TWR President and CEO, Lauren Libby, will share about how the Lord has used our media ministry to impact women and children in Asia. Admission is free!
Check out the conference schedule and brochure of night-meeting.
If you are involved in ministry and wish to find out how you can partner us, or simply want to learn how mass media can be used to impact lives for Christ, register now and join us!
I'm interested! How do I register for the conference?
It's easy! All it takes is three simple steps:
1. Download the registration form
2. Complete the form
3. Send the completed form to register@twr.org by 14 April 2011
If you have any queries, please write to enquire@twr.org
Hope to hear from you soon!