TWR Receives Award
February 23, 2012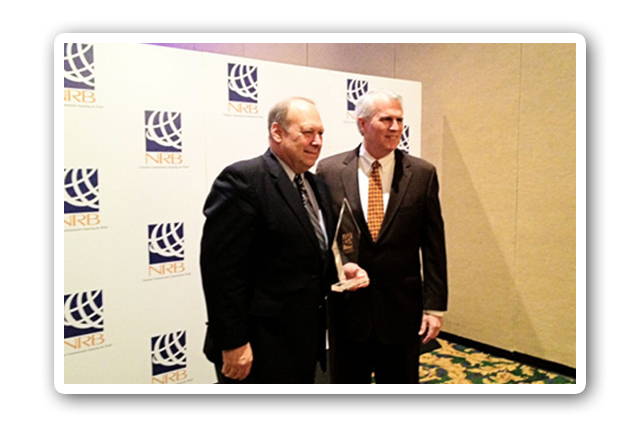 Global Christian media ministry TWR received the International Strategic Partnership Award from the National Religious Broadcasters (NRB) association at the 69th annual NRB Convention & Exposition in Nashville, Tenn. February 18-21. Three of TWR?s partner ministries or affiliated organizations were also presented awards.
"TWR is humbled and honored to receive such a distinguished award," says TWR President/CEO Lauren Libby. "We thank NRB for recognizing our ministry?s role in partnering with other missions-minded agencies to reach the world for Jesus Christ."
Other TWR-affiliated honorees include Dr. Stoyko Petkov of Studio 865 in Sofia, Bulgaria (Individual Achievement in International Broadcasting Award); ERF Germany (International Television Ministry Award); and online outreach Jesus.net (International Innovation Award).
Born in 1966 into a Christian family in Bulgaria, Dr. Petkov founded Studio 865 following the fall of communism in Eastern Europe. Studio 865, a TWR partner organization for Bulgaria, began producing radio programs and then in established a Christian newspaper. Ultimately, Roma (Gypsy) radio broadcasts were added and along with a weekly Christian television program. These days, Studio 865 utilizes television, radio, Internet and printed media to encourage the Christian community in Bulgaria and to address the needs of those yet to accept Christ.
Established in 1959 as Evangeliums-Rundfunk ("Evangelical Broadcasting"), ERF began airing Christian programming over radio two years later. Today, ERF has expanded into television and the Internet. ERF 1, the ministry?s 24/7 TV channel, is viewed across Europe by satellite. A wide range of Christian programming for believers and unbelievers alike includes talk shows, documentaries, music, magazine-style programs, teaching and drama. ERF?s ministry is financed exclusively through donations.
Jesus.net is known for Internet evangelism, striving to connect the spiritually curious individuals with Christians and to empower local churches and Christians to disciple them both online and offline. This is accomplished in conjunction with national partners, churches and individuals. The goal of Jesus.net involves a world in which every person has free access to God?s Word, knows him, grows in Jesus Christ and shares faith.
The NRB Media Awards are designed to encourage excellence in production, service to the community, faithfulness to the mission, commitment to the gospel and personal integrity. Discover more about NRB at www.nrb.org
Catch the video of TWR receiving the award!
(Reproduced from www.twr.org)