TWR's Movie Event 2014
May 14, 2014
SINGAPORE – TWR Asia held its annual fund-raising movie event at The Cathay Cineplex on 29 March 2014. The guests filled the largest hall in the cinema that Saturday afternoon for a special screening of the blockbuster movie, Marvel's Captain America: The Winter Soldier.
The event went smoothly, due in no small part to the unity among the TWR team members. It was wonderful encouragement for the TWR staff to see supporters coming together to enjoy a special movie screening such as this. It was all the more meaningful as it was in aid of TWR's ministry in China.
Even though this year's event is over, TWR's ministry in China (and other countries in Asia) does not end here. There is still a great need in the mission field, and we must continue to work hard and trust that God will provide for His work.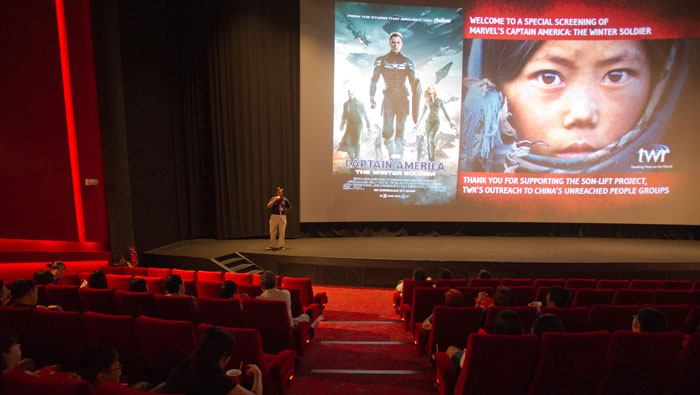 Through this movie event, many have provided for His work to go on in China among the UPGs (Unreached People Groups). An unreached people group is defined by the Joshua Project as a group of people with less than 2% of believing Christians in the community which results in inadequate resources for evangelism among the people.
In a country with a population of 1.35 billion, approximately 83% of people in China remain unreached. The majority of UPGs live in rural or mountainous areas (or both), where it is a challenge for missionaries to reach them. However, radio can reach them wherever they are, in their villages and homes.
Using an integrated media strategy including shortwave broadcasts, audio players, mobile phone memory cards, internet webcast, and mobile phone apps, it is our prayer that over the next five years, more than 92 million people will have the chance to hear the name of Jesus in their heart language.
During the initial phase of the project, the funds raised from the movie event will be channelled into content development of the programs. Please pray with us for God to bring the right people to partner us in this project over the next five years.
Although the 2014 movie event is over, you can still support this outreach to China's UPGs. If you wish to support the project, please contact us.